Email a Prisoner: A success story
Profile: The Ex-Offender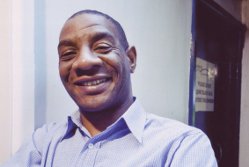 It was during yet another stint inside while awaiting trial that repeat offender Derek Jones got his big idea: a special email service connecting prisoners to friends and family on the outside. Mark Williams finds out how forming a business helped Derek to turn his life around
Some 90,000 ex-offenders are released from English and Welsh prisons each year, and about 65% re-offend within 24 months, costing the UK taxpayer about £12bn a year.
Apart from wanting to change your ways, the key to 'going straight' is finding a job, of course. Those who do so are as much as 50% less likely to re-offend.
Few ex-offenders choose to start their own business, but Derek Jones is one exception. He grew up in Bath in the 1970s. "I've fond memories of my childhood. Although I was a black kid growing up in a white adopted family, I didn't have any issues about that," he says.
Falling into crime
"I was hanging around with the wrong crowd and it began with minor stuff - petty theft, bottles of pop, etc. I first got into trouble with the police when I was 11 and up until the age of 21, I must have been in custody 15 times. My adopted parents had no idea what I was getting up to, but that changed when the police got involved."
Laziness was a big part of it, confesses Derek. "I wanted everything to come easy - I didn't want to work for it. I wanted to do something else with my life, but I thought that was out of reach."
Soon, Derek graduated to car theft and burglary. "Bath's a small place really, there aren't many black people either, so soon people knew what I was getting up to - and that included the police." The first couple of times he got caught, Derek said he felt some shame, but soon he was out committing more crime to "get money to buy things and have a good time".
Inspired business idea
Derek was on remand for many months during his youth. "I went away a few times to youth offender units and got sent to a detention centre, too, which I didn't mind, if I'm honest. I couldn't see things through the eyes of the people I was stealing from. I didn't care.
"Later, I ended up in prison. I got 18 months for burglary and later served four months for driving while disqualified. I wasn't scared while inside –although there are some seriously nasty people in there. I'd done a lot of boxing while growing up, so I could look after myself. The thing is, if you want to waste your life, prison's the right place for you."
While Derek was on remand for six months in 2003 and himself experiencing problems communicating with friends and family, he had his "eureka moment". "Email. Simple. I knew demand would be huge. There would be no cost to prisons or prisoners; the sender outside would pay.
"I needed to do some research into how my idea could be turned it into a viable business. At the time I was doing a teaching course, but I mentioned my business idea to the teacher and she allowed me to go to the library to read books about starting a business."
Derek's case (alleged burglary) was thrown out for lack of evidence. "I was 36 and standing on the steps of Winchester Crown Court with no money, but at least I had my idea. I was determined to stay out of trouble."
Email a Prisoner
After making it back to the West Country, support was hard to come by. "Some people just couldn't quite understand my idea, while others said it couldn't be turned into a business. They were wrong."
Derek went to see his local Business Link (since closed) and over four months did various start-up courses. He also put together a business plan. He was given a £2,000 grant by Bristol Enterprise Development Fund as well as support by Bristol-based enterprise agency BRAVE. "As well as encouragement and advice, BRAVE gave me a mentor called Mike Groves, who was very helpful. We used to meet once a month."
It took Derek two years to get his business - Email a Prisoner - off the ground. Launched in 2007, he has since sold his email service to more than 100 prisons of all categories. "It's taken time, but now I've been able to get my message across to the right people, response has been brilliant. I got my first trial at Guy's Marsh Prison in Dorset in 2008, proved the concept and won the business, but getting other prisons on board was difficult at first."
Straight talker
Derek says he hasn't personally encountered any prejudice because of his past. "I'm open about it: I broke the law, many times, but I was punished and I've changed my ways. As far as the business goes, being an ex-offender helps.
"I've fully left crime behind now, because I wanted to change my life and I've something else to focus on. Staying out of trouble also involves staying away from people I once knew and places I used to hang around."
Other publications:
http://www.bbc.co.uk/news/uk-northern-ireland-10852497
http://www.crossreach.org.uk/email-prisoner
HAMPSHIRE CHRONICLE Thursday, March 13, 2008
AN ex-Winchester prison inmate is helping prisoners keep in touch more regularly with their loved ones. Businessman Derek Jones, now 39, spent several months on remand at the Romsey Road jail five years ago, but found it frustrating to wait several days for letters to arrive from relatives. Inmates are denied internet access in jail, so their only means of communication is by post, phone, or on visiting days. While in his cell, Mr Jones came up with a solution that would enable prisoners to at least receive e-mails.
"I didn't know anything about computers, except how to send e-mails, and nothing about starting a business,"
he said. He joined a training course in the jail that gave him the basic information required, and once released, he
started to put his idea into action, and launched emailaprisoner.com in March 2006.

The Home Office gave permission to trial the system at Guys Marsh Prison in Dorset.

The system works by friends and relatives sending e-mails to the jail, which are printed on a fax machine.
The firm provides the paper and hardware, and there is no cost to the taxpayer. Prisoners then receive the printout
in an envelope that day, making it faster than the postal service.

It is also slightly cheaper than a first class stamp, as each message costs 35 pence.
Following the successful pilot in Dorset, the scheme has been extended, and has 7,000 users. Winchester will become the 16th prison to have the service, which goes active next Monday, March 17.
Mr Jones, who lives in Bath, has visited Winchester Prison twice in the last six months to set up the scheme.
He added: "It feels totally amazing to see the place from both sides."
"It's quite a turnaround for me going from convict to company director, although it does go to show that if the education is available in prison then it will get used."
Talks are continuing with the Home Office to see if the scheme can be extended nationally.